Current Mood:

artistic

Current Music:

Johnny Marr - This Tension
I'd like to share something with you. As you might know, I love Halloween and I've always loved Halloween plushies with accessories but Duskull and Haunter sadly aren't very popular. So I commissioned icons of my favorite ghosts with accessories from the talented
hawlucha
.She also made these amazing turnarounds.
In the end I commissioned
D215LAB
to turn them into plushies! And she managed to finish them in time for Halloween and what surprised me even more, they even arrived today!!! (DHL is incredibly fast!) They are just perfect!!! <3 I'm so happy! They look exactly how I imagined and the detail is amazing! Duskull has a removable hat and bag! And the pumpkin is just beautiful! And Haunter has a wire in his cape, so you can pose his hands (and they look like they're detached) and a cute spiderweb on his hat!! Seriously, I'm so amazed by how beautiful they are! I didn't have time to take photos yet, so I'll show you d215lab's photos of them.
Halloween Duskull Plush
by
d215lab
on
deviantART
Halloween Haunter Plush
by
d215lab
on
deviantART
They were also the last thing I waited for to arrive so I'll make a big collection update with all the amazing gets and group photos next week (maybe even this weekend)! :D
EDIT: The newest collection update is
here
!
Thank you for reading!
Hi guys!
Current Mood:

accomplished

Current Music:

SOAD - Innervision
I have a few things to tell you about!
First of all, on Wednesday I saw Nine Inch Nails live in Prague and it was really a dream come true! (I put the story under the cut.)
(
The story and some pictures
Collapse
)
Also, I'd like to thank again to everyone for their birhday wishes! It means a lot! <3
Another thing, I finished my Pumpkaboo plushie! I really wanted to make my own plush of him!
(
Pumpkaboo plushie
Collapse
)
Last thing, I made some ghost patterns inspired by Pokemon Time patterns recently!
(
Patterns
Collapse
)
Thanks for reading! <3
Hi guys! :)
Current Mood:

cheerful

Current Music:

NIN - The Great Destroyer
Being a ghost type collector, I really enjoy Halloween (even though it's not much celebrated here). I figured out I'd show you our Halloween decorations. :)
These guys are ceramic decorative pumpkins. Sadly we didn't carve any actual pumpkins because the one we got was too big and impossible to carve into. XD But next year I'm gonna buy a smaller one and carve a ghost!
I'll hide the rest of the pictures under a cut...
(
Click for more pumpkin decorations and lit up pics!
Collapse
)
Speaking of Halloween, I really started liking Pumpkaboo! Finally a pumpkin ghost Pokemon! They are so cute, I might start a side colection (even though I don't like Gourgeist much). I really hope they get a cute plushie! :) I also wanted to finish a Pumpkaboo picture for Halloween, well, I'll finish it later hopefully. :D
I also hope to make a collection update soon! Yesterday I added shipping instructions to my first FJ box. I'm really happy because I managed to get some ghost kids and most of the Halloween clearfiles! :) (Apart from the black one with purple ghost silhouettes. I've seen one but the price went too high. If anyone finds one please let me know!) I'm really glad using FJ was much easier than I thought so far.
I hope everyone has a lovely day and nobody is sick from all the Halloween candy! <3
Hello guys!
Current Mood:

happy

Current Music:

NIN - Came Back Haunted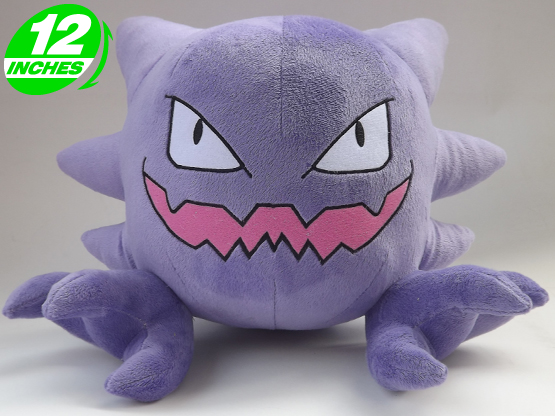 Look, guys, they finally made a Haunter plushie!! :) It looks like an unique pattern too, I really like how he looks, just look at the hands!! So happy!! :'D
Current Mood:

happy
http://lastlivingsouls.weebly.com
Feel free to take a look and let me know if you'd like to exchange links! :)
I finally finished my collection site!
Current Mood:

energetic

Current Music:

Foxboro Hot Tubs - Pieces of Truth
I'm posting the collection pics here too, so it's all in one place. :)
(
Ghosts, reptiles and a rant, go go go!
Collapse
)
I hope you enjoyed my collection. Have a nice day <3
Hello everyone!
Current Mood:

happy

Current Music:

Green Day - Amy


I'm using this account mainly for collecting purposes.
As many people I've liked Pokemon from the beginning but I started collecting in 2010.

My main collection are the ghosts. I've always liked ghosts! My favourites are Duskull, Haunter (the whole line actually) and Shuppet.
I also collect the Kanto starters. My favourite animal being turtle, I like the Squirtle line the most. <3
Hello everyone!
Current Mood:

cheerful

Current Music:

Gorillaz - Feel Good Inc.